Cutting It With The Best Of Them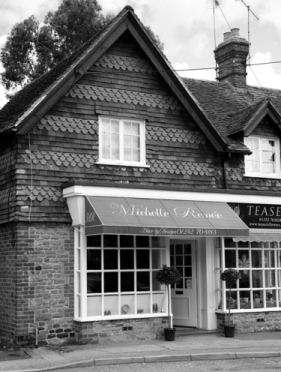 Local residents in the village of Elstead may have noticed that over the Christmas period one of the longest-running businesses in the village underwent a swan-like transformation.
Formally The Hair Shop, Michelle Renee is now a beautifully presented, modern hair studio, offering their customers the highest standards in hairstyles and treatments in an environment that would more commonly be associated with pampering and spa days. Michelle herself has managed to capture the essence of what her clientele would find inviting and relaxing in her choices of interior design, successfully combining modern chic with traditional functionality.
Growing up in Elstead and working in The Hair Shop since the age of 12, Michelle has re-opened the doors under the name Michelle Renee, realising her childhood dream of owning and running a high-class hair salon of her own, in a place that she says "has always been dear to my heart".
To celebrate the official opening of Michelle Renee, Michelle is inviting customers old and new to come down on Thursday the 5th April and Saturday the 7th of April between 10 am and 4 pm for drinks and canapés. For all those who come she is also holding a draw where one lucky person will win a £100 voucher for the salon, with all others receiving a 10% discount voucher for a future visit. Michelle is also offering her visitors the opportunity to discuss personal styling and hair care advice.
Michelle would like to give a special thank you to all those who have helped and supported her, including her partner who she says "without him, this would all still just be a 12-year-old girl's unobtainable dream".