Tea and Tresses, Salvation Army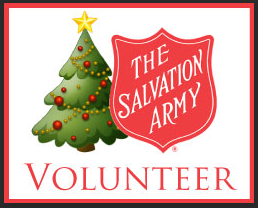 Christmas in the salon is full of joy and excitement of the holidays to follow, a fabulous working environment that I am never tired of.
The build-up to a family Christmas can be very exciting but when you're single, family have passed away or live abroad this time could be lonely for many. Your true friends share their family Christmas's with you is a wonderful joy, however never the same, we all have our little quirky things at this time of year which makes us miss our own families even the more. This was the situation I was in, I found I made excuses not to be with others on Christmas day! Then a friend told me about the great work the Salvation Army has achieved at Christmas and asked if I would like to join her.
The Salvation Army began on the streets of East London in 1865 when Methodists, William and Catherine Booth, abandoned the traditional concept of a church pulpit to take God's word directly to the people. The Booths preached and lived out a doctrine of practical Christianity - soup, soap and salvation - to encourage both social and spiritual transformation among society's most vulnerable and marginalised people. Their work included setting up shelters for people who were homeless, a family tracing service, running soup kitchens, helping people living in the slums and setting up rescue homes for women fleeing domestic abuse and prostitution. The challenges people were facing in the late 19th Century - homelessness, addiction, loneliness and unemployment - are much the same as today. The Salvation Army has continued its founders' work, tackling issues and working at the heart of communities to offer practical help, unconditional assistance and support to transform lives.
Today, The Salvation Army is a church and charity that is active in virtually every corner of the world and serves in more than 130 countries offering God's hope and love to all those in need without discrimination.
This role was perfect for me, as we all know how I like to natter, to serve a Christmas feast with all the trimmings over a chit chat for those who are on their own. Helping the older generation to have a lovely Christmas, while listening to their amazing stories put everything into perspective. I remember looking around the room and thinking "how sad it is that so many people are lonely or vulnerable", "surely, they must have families somewhere". Then I looked at us 'the volunteers' with the same view, I might be 40+ years younger than them however I was in the same position. I plucked up the courage to ask one gentleman, "Do your family live too far for you to see them"…."Hell no" he said, "The grandchildren are far too noisy and I want to be with my friends" his reply was not what I was expecting but made me chuckle.
I had the great pleasure to join The Salvation Army in Godalming for two consecutive years on Christmas Day. This created a different view of the festivities for me, it's not about our family traditions but about seeing smiles on many faces and making new memories. Some people have said 'it's a selfless thing to do' however I disagree…the definition of selfless is being more concerned with the needs of others than with your own needs. The pleasure and gain I received were probably the best Christmas I've had for a long time without my family!