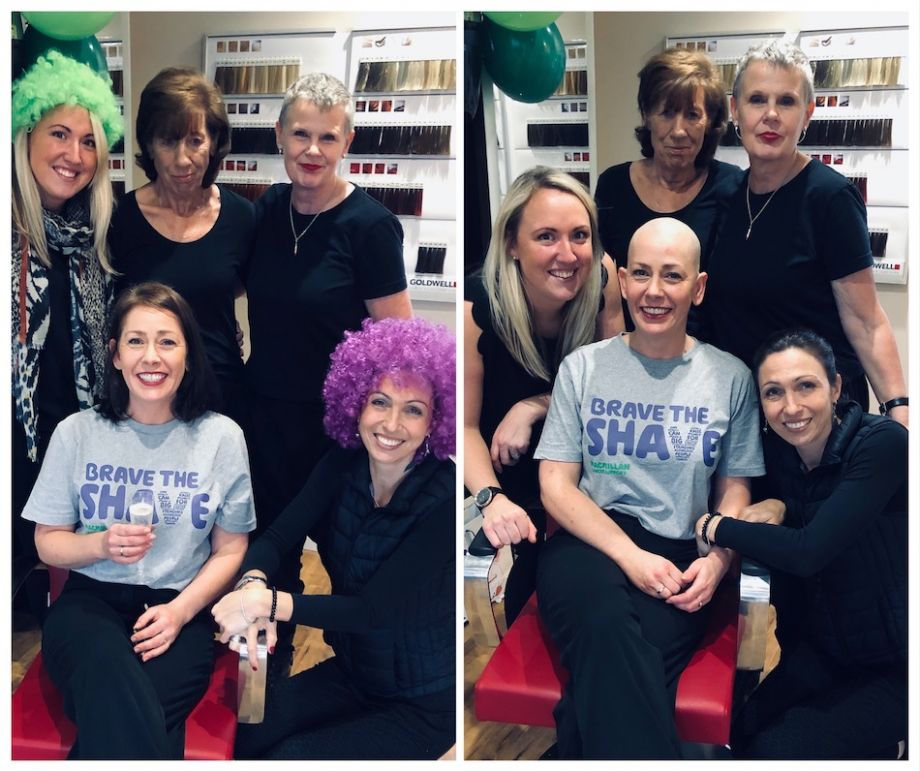 Hair today - gone tomorrow, 'Brave the Shave'
This started with the sheer frustration on growing my hair, feeling defeated as a hairdresser I couldn't cope with my mop any longer, the idea evolved…shave it off & start again!
Day 1 Week 1;
The morning after the 'Shave', I looked in the mirror with a gasp, the reality of what I have done was staring back at me! Gary & I planned to go into town, getting ready came with a new challenging routine…the feeling of warm water directly on my scalp was the strangest odd sensation then automatically reaching for the shampoo. More make-up was needed to feel feminine, however with no hairline-where does the foundation & blusher stop! Overdone now, I look like a clown, let's start again with more care…
Walking around town was more arduous than I ever imagined, with a bald head I felt I'd lost my identity…my confidence! Looking for eye contact of people approaching me, some either looking away or doing the sympathy head tilt with following sideways glances. Holding on to Gary's hand I caught a glimpse of my reflection in a shop window, I was walking with my head & shoulders down with no confidence, this was crazy as now I looked like someone with an illness!
Early to bed after an emotionally draining day with my beanie on, it's so cold even the pillow is cold!
Day 5 Week 1;
I've been feeling very comfortable in the salon, my environment, everyone knows why I look like this, no sympathy, no sideways looks. After 2 days out 'n about...I now may have a very small inclination of what people who lose their hair to treatment, illness or alopecia have to go through in the outside world. For those dealing with treatment & or the possibility of surgery, added with hair loss…where do you find the inner strength?
A theatre trip was planned some months ago with the girls, with a 5 o'clock shadow now appearing, do I wear a wig or go 'naked'…I choose a wig, Gary & I called her Thurma. I have been so touched by the loan of personal wigs from clients following their treatment or alopecia, 6 in total, all with 'alter ego' names giving me many different looks. We giggled as Gary thought he had a different girl every night. Thurma was very hot & itchy though, thinking that all around me could tell it was a wig, confidence on a wobble again. Of course, no-one would notice me however I thought I stood out like a sore thumb! In the interval, the girls encouraged me to lose Thurma & be my bald self, off she came…hearing a gasp of shock from behind me.
Day 9 Week 2;
After a week I am feeling more like me, my confidence is returning, receiving many lovely comments about the shape of my head & my new 'skinhead' look! I do have the urge though, to buy some DM boots, turned up jeans, pretend tattoos, nose studs & chains, this then would be a 'stereotypical' lifestyle choice. Hmmm, can I stay as a bald hairdresser...not a very good advert!
A trip to St James's Primary School to ask the children to draw 28 lucky raffle numbers & present them with a fabulous cheque for £636.00, money donated by the wonderfully supportive community of Elstead. Many children I recognised, bless the little people all looking at me, would I scare them…thank goodness they recognised me!
Day 13 Week 2;
Nearly two weeks with my new look, not seeing my natural colour for some time I am surprised by the amount of 'ash blond' I can now see! With so many people wanting to stroke my head, men, women & children. One adorable little girl put both hands around & kissed my head, then told me she "loved my hair, it's just like daddy's", the innocence of a child put the biggest of smiles on my face. However I failed to think about the effect this could have on other people, some clients saw me with concern, then said "I am relieved you have the same smile", others telling me of memories of passed loved ones….is this therapy or have I opened wounds buried deep inside?
This has been the most emotional journey, even as a hairdresser, I have underestimated the psychological value of hair. A life's lesson in seeing the person not the possible illness with empathy, not sympathy, in understanding behind the smiles that mask our faces, we may want to be 'normal'…
I would like to thank all the people that made this crazy idea possible, the awesome raffle prizes, the wonderful nibbles provided by lovely clients on the 'Shave' day, the support of my fabulous team at Michelle Renée & my very encouraging partner Gary. To Andy Mayson for the amazing photographs that captured all our expressional faces & to all the very generous people who gave donations via online, cash and sponsor forms…be proud, YOU have raised a tremendous £5,820.00 for Macmillan Cancer Support.