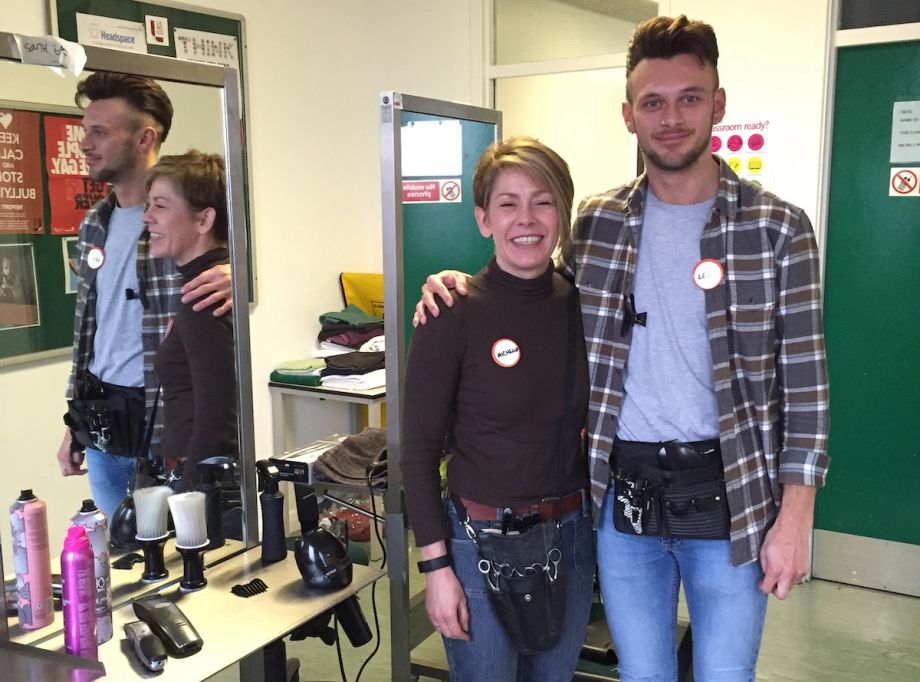 Styling the Homeless, Crisis at Christmas
My third year at Crisis, a colleague from the salon wanted to join me & share the humbling experience I have talked about over the years. The closest location was Lewisham which was great as I was there two years ago, I knew the layout & was looking forward to seeing some of the volunteers again.
On arrival we were met by Richard, "Good morning Michelle, you are in charge again". He remembered me, not sure if that was a good or bad thing, maybe because dad & I were a little bossy over the salon organisation years prior. Either way, Richard knew I know the drill on Health & Safety of clients and ourselves, we skipped the briefing as clients were lining up for our services, this year the salon was in the main building with better facilities. With no dad by my side, the atmosphere was slightly different however very interesting to watch a confident & competent 22-year-old cope with this very different salon! Watching Lee awkwardly engage in a different type of conversation compared to the usual salon chit chat & the expressions on his face when looking at the matted pongy hair he was about to attempt!
As always the clients were very grateful for our time, the service provided in our makeshift salon, music playing & of course a box of chocolates! The laughter flowed as more & more shiny heads left the salon, I learned some years ago that a tube of moisturiser went a long way not just in the look of the scalp but how it made our clients feel. Another successful year, feeling humbled & blessed by the experience.

As Crisis at Christmas 2016 draws to a close, provisional figures show that more than 4,000 homeless guests were welcomed into 14 centres across the UK. Ten centres in London, plus one each in Edinburgh, Newcastle, Birmingham and Coventry served more than 38,000 meals. On Christmas day more than 5,600 meals were served. Between 23 and 28 December, 620 guests saw a doctor, nurse or pharmacist and more than 300 saw the podiatrist. Four dental units and teams of optometrists also offered care to guests. Over the course of the week, thousands of people were able to access IT services run entirely by volunteers, hundreds more enjoyed haircuts, massage or had their clothes and bags repaired. More than 11,000 volunteers made the 45th Crisis at Christmas happen. Clients of Crisis came to centres to talk to guests about services on offer year-round from the charity. People who stayed over Christmas will now be given the opportunity to take part in classes and courses to help rebuild confidence and skills and leave homelessness behind for good.
There are almost 160,000 households experiencing the worst forms of homelessness in Britain. If we carry on as we currently are, this is expected to almost double in the next 25 years.
What we mean by ending homelessness
Ending homelessness doesn't mean that no-one will ever lose their home again. It means it rarely happens, and that there's a quick solution when it does. This plan shows how to ensure that:
*No one sleeps rough: whether they are in tents, cars or, at worst, on the streets.
*Everyone has a safe, stable place to live: so that nobody is in emergency accommodation like a hostel or night shelter without a plan to quickly move into housing.
*Where we can predict homelessness, we can prevent it: so that no-one leaves their home of is forced to leave a state institution like prison with nowhere to go.
Something different for Christmas, have a look at what you can do & make a difference crisis.org.uk